I booked a 30 amp electric / water site at the KOA in Butte Montana the day prior to our planned stay.
On arrival, the check-in process was very slow. The KOA agent at the desk apologized repeatedly for the delay, which she said was caused by a trainee mixing up our reservation with that of another Gardner.
I smiled pleasantly and said "no problem", while thinking "Quit blaming the trainee and wasting my time. Just get the paperwork done so we can get to our spot".
The agent then mentioned that there was equipment working on the trail to the washroom across from our site and where the alternate washrooms are located.
We finally get the paperwork, and drive to the assigned site.
The equipment is working directly in front of site, blocking it to the extent that we can't possibly pull our rig through to unhook the truck. The spot is about 40 feet long and our rig totals 50 feet, meaning we must pull all the way in to unhook and park the truck sideways in front of the RV.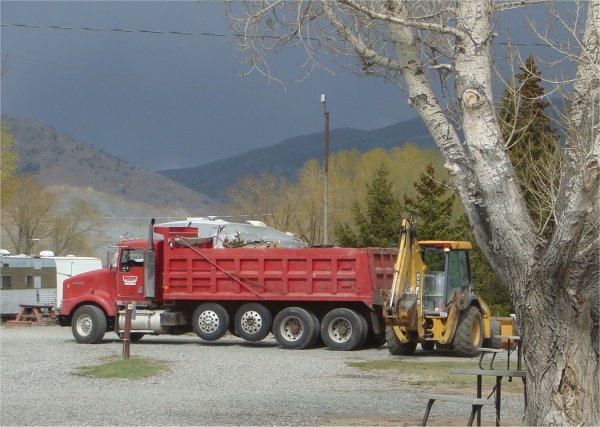 Rather than ask the workers to move, I backed the rig out and drove around the campground again and selected from one of the MANY other spots available. I then immediately walked back to the front desk to advise them of our new site selection.
Now there is another agent at the desk. "You CAN'T do that", the new woman says. "That's a full hookup, 50 amp site and you only paid for 30 amps, electric and water".
"OK, so how much more will that site cost?", I ask.
"Five bucks."
"OK, so, how about splitting the difference with me, considering the inconvenience caused by putting us in an inappropriate and unusable site?" I suggest.
"CAN'T do that", KOA rep replies.
"Really? That's interesting…" I say. "Not to mention the spot was too short".
"I've had 40 foot motorhomes in THAT site".
I bite my tongue and refrain from explaining that a 34 foot 5th wheel comes with a truck attached and is therefore longer than the site issued.
"OK, so what SUITABLE spots DO you have available?" I ask.
Much humming and hawing goes on between the two women at the desk.
"We could put you in a 30 amp full hookup site for no extra charge".
"THANK you. That would work."
Prolonged silence.
"And what site might THAT be?" I ask, prompting them to action.
"You booked online", the crotchety one says.
By this point, I am feeling frustrated and starting to lose patience with the old biddy. "Uh, and how is THAT now a problem?" I ask.
"The sites are assigned" she said and then gave me the new site number.
I walked back to our rig to see that Ed had already hooked up the water and power. I told him that we had to move, so he unhooked everything. I drove the rig all the way around the campground for the THIRD time to move to the new site which is a mere 8 sites away, in the same row.
Although the customer service issues should be obvious, here they are listed:
DON'T blame the trainee. Seriously… I moved airborne metal for more than 20 years. I helped train many student air traffic controllers. Any error that they made was MY fault and MY responsibility to correct.
Be informed about and stay aware of your site hazards. Plan accordingly. Seriously, if I'd been so incompetent as to forget known hazards, people would have died.
Do NOT used the word "CAN'T", especially when someone does you a favor — i.e. recognizing that your hired people deserve room to work. If the favor is not obvious to staff, then you have the wrong staff. If your business can't withstand a $5 complimentary upgrade, especially when the customer has been inconvenienced for 30 minutes or more, then you should NOT be in business, OR you need to retrain your staff.
Speaking of which… don't hire cantankerous old biddies to staff your front desk.
By the way, this customer service tutorial should be worth at least 3 free nights at KOA campgrounds anywhere and paid for by the Butte Montana KOA staff member who was so darned unpleasant with me.
Yes, the same one who must have 'forgotten' to send out the "Thank you, Please Rate Your Stay" email the next day.