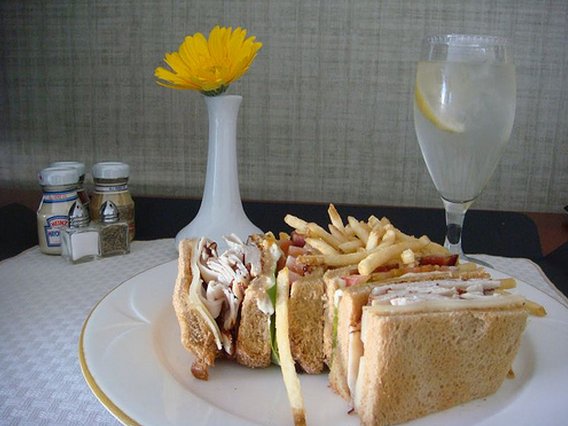 I know… I should know better by now, especially since I've written about the exhorbitant prices that hotels charge for room service.
But I was hungry.
And the Turkey Clubhouse sandwich on the Westin Casaurina's room service menu sounded just perfect to munch on, while I worked on my talk for PPC Classroom Live last Saturday (December 1st, 2007).
Although I did see the $14.00 price and had noticed that *a 2.50 delivery charge, 20% gratuities and applicable state taxes would be added to the bill, I suppose perhaps I should have ADDED those figures together before I ordered this little treat.
AND to make matter worse, despite the fact that I'd paid a delivery charge, I added a tip to the bill.
They know how to make you feel guilty!
Now, I wish I could say that it was a tasty little treat – but alas – the bread was smothered with so much mayo, that I after 3 small bites, I ended up removing the bread and eating just the turkey, lettuce and tomato filler.
Hmm… I could have bought a LOT of turkey for 23 bucks!