The beach at Okanagan Falls, British Columbia (about 20 minutes drive from where I live) is one of my favorite beaches in the Okanagan. The views are spectacular, the beach is never crowded and a good portion of it has been set aside as a dog beach.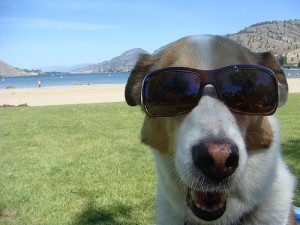 So, when our friends Martin and Jennifer entrusted us with the care of our 'dog goddaughter' Chinook this past weekend, we were quick to hop in the convertible and take her down to the beach at Okanagan Falls for some fun and sun. 
Although huskies aren't typically water dogs, as soon as we got to the beach, Chinook ran straight into Skaha Lake to cool off after the hot drive down. She chased and retrieved sticks thrown into the water and had fun with a bunch of other dogs who were also down at the beach with their owners.
After she was all tuckered out, she did the 'girly thing' with me and chilled out on her blankie in the grass — when she wasn't checking out the boys from behind her Maui Jim's. 🙂
You can see all of the pictures that we took on our outing to the doggy beach at Okanagan Falls here.