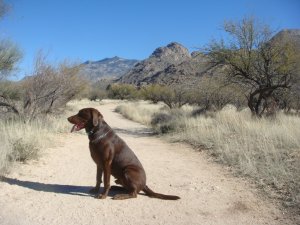 I was one hour and 45 minutes into a hike with Jasper on the 50-Year trail in Catalina State Park when I met a couple on the trail, also walking a dog.
In typical fashion, Jasper started bouncing to greet his wannabe friend.
A few seconds into the doggy greeting, Jasper's legs buckled and he was on the ground.
He struggled to get up a few times and then he'd be down again.
Frantic, I pulled him up and away from the other dog and tried to get him on his feet. In doing so, I found that his head and neck were hot as hades.
I gave Jasper what little water I had left and asked the couple if they had any. The woman produced a doggy bowl into which she poured a little ice water.
With much encouragement from me, Jasper drank most of what was in the bowl.
This is where my freak-out began.
I needed to get Jasper back to camp, which was still 15 minutes away. I didn't have a phone with me, not that it would have helped. Seriously, who would I call?
"Hello 911, my dog might collapse again any moment."
Ya, I didn't think so.
Ergo, the longest 15 minutes of my life.
Walking fast, but not too quickly so as not to exhaust Jasper again – I spouted a continuous stream of "Good Boy!", "Keep Going!", "Gonna be home soon!" – along with promises of water-drinking, swimming and anything else I could think of to keep Jasper moving without collapsing.
My worst idea came 2 minutes from the campground when I could see some RV's through a glade. I left the trail and the farther we got into it, the thicker it became with thorny plants and trees.
When we finally emerged, my arms and legs were scratched and bleeding.
I then speed-walked back to our site, responding only to our neighbour John's howdy with a "Jasper collapsed on the trail!!!!" and then home-free to the exterior water faucet where I doused him with cold water.
John, the neighbour, showed up shortly thereafter with a packet of Emergen-C, which we added to Jasper's bucket of drinking water. (What a GREAT idea!!)
3 hours later and Jasper seems in top form, but I still feel guilty. I can count on both hands how many times I've cried in the last 5 years and today was one of those times (after all was said and done).
Lesson learned – don't go hiking midday in the desert with your dog, even if you've done it 100 times before.
UPDATE – Jasper wasn't de-hydrated. Read my follow-up to find out what was really wrong. UGH!