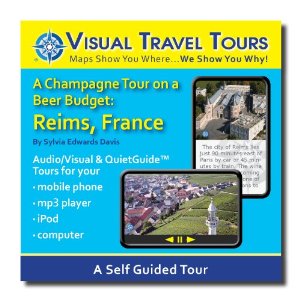 I thought these walking and driving tours for cell phones, produced by VisualTravelTours were pretty cool.
So, families that travel together, but with different types of mobile devices, can now take a walking tour at the same time, and/or at their own pace. The narrated tours have images throughout, a map to print before you go, and an interactive one as well.
Let your cell phone be your sightseeing guide! Load these files from our CD to your mobile and GO! Turn-by-turn pictures plus narration enhance your travel experience
These are the first self-guided walking/driving tours made for your mobile phone or device, worldwide. Simple: Just Play or Pause
Convenient: For smartphones like iPhone & BlackBerry, or mp3 players & iPods. Re-purpose your old phones; load them with tours. Formats on CD: wmv, m4v, 3gp, mp4, mp3, mov, pdf. Maps included
Compelling: Our professional travel writers have firsthand knowledge and personal anecdotes that will add special value to your journey. We guide your adventures!
Affordable: For under $20 you have your own guide; one that is available on YOUR schedule, at YOUR pace, and will provide a day or two of entertainment
This product, a data CD packaged in a jewel case, makes a great gift for any traveler. Over fifty locations are available on Amazon
.