Not 5 minutes after we left Catalina State Park for points north, we heard this really loud "BANG" in the truck, followed by a sudden loss of power.
To me, it sounded like the oil pan had fallen off the truck.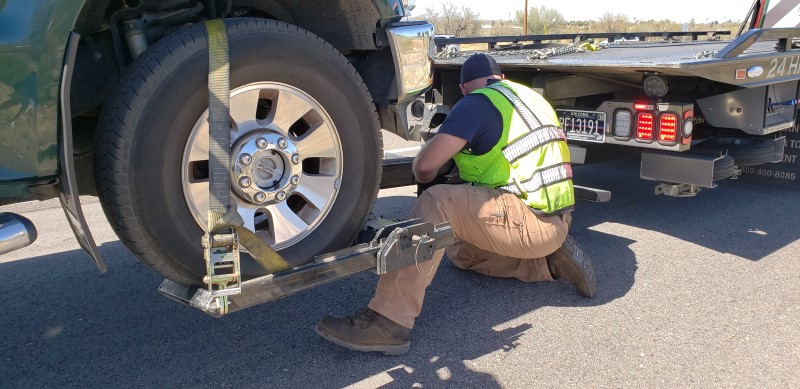 Fortunately, we were in the right-hand lane, and Highway 77 has nice wide shoulders through Catalina, so I was able to pull over immediately and easily. (I'm super glad that we weren't on Highway 79, just north of the town of Catalina where the shoulders are non-existent. Apparently, many fires are started when vehicles pull off to the side on that road and park over the very dry vegetation.)
After pulling over, I jumped out of the truck fully expecting to see pieces of it scattered on the road behind us, but there were none.
During a careful inspection, we could find nothing obviously wrong with either the truck or the RV.
Ed immediately suspected that the truck had blown a turbo and went into a blue funk anticipating a huge hit to his bank account.
I called Nate from Catalina Towing, who came by as soon as he could – about an hour later – and towed the truck plus our RV up to the nearest Ford dealership in Oracle.
We dropped the RV off on an easement across from the dealership and then took the truck in.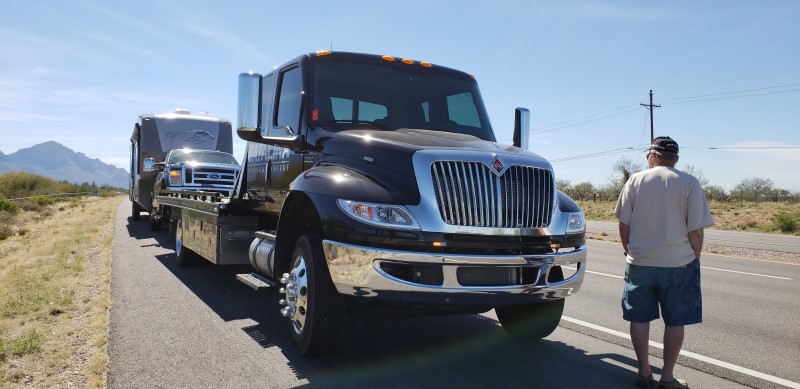 We spent the afternoon reading in the RV, which hadn't been leveled, and couldn't be leveled, without running the risk of completely draining the batteries and was therefore quite wonky.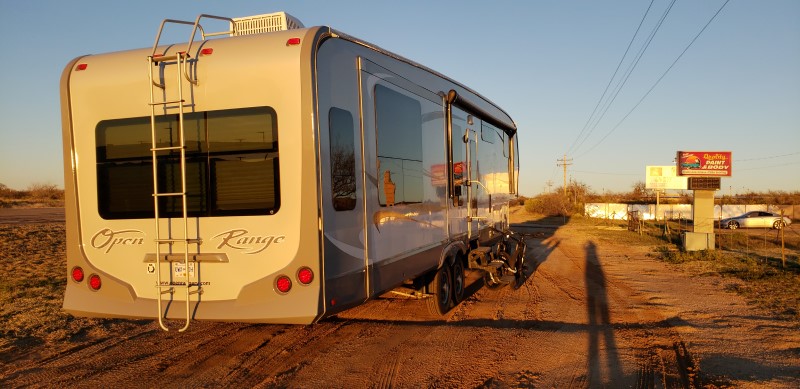 Not knowing how long the truck would be in for service, we elected to have the rig towed up to McDowell Mountain Regional Park, where we had reservations, rather than find a pet-friendly hotel back in Oro Valley, which would have meant packing up SO much of our stuff.
Nate, the owner of Catalina Towing is such a nice guy. We rode with him in his beautiful rig – Ed and he up front with Jasper and I in the back and we conversed all the way up to the park, despite Jasper making a nuisance of himself whining and complaining for nearly half the trip.
The trip up to the park was a 2.5 hour drive and a $430 tow charge, in addition to the $120+ tow charge Ed paid to have the truck and rig towed up to Oracle.
As it turned out, the truck had only blown a turbo hose and was repaired within 2 days (Ed was MUCH relieved not to have spent $4500). We drove the rental car back down to Oracle on Monday to pick up the truck, and because we weren't towing the rig, we actually got to stop in Florence and take a look around, which was quite fun.
All in all, it was an adventure that could have been much more costly and we still managed to get to our destination only 8 hours behind schedule.
Cheers,