Do you want to buy my Cuisinart, juicer, blender and other old food processors?
I bought a Vitamix
last week and have no use for my old food processors anymore!
This thing is AMAZING!
Ed makes a blueberry sorbet with spinach that tasted just like blueberries but had the spinach beneficial vitamins – Vitamins A, B1, B2, B3, B5, B6, C, E, K and Beta Carotene.
The picture shown below was taken at our campsite in the BC Kootenays – where Ed wowed our friends with another blueberry sorbet.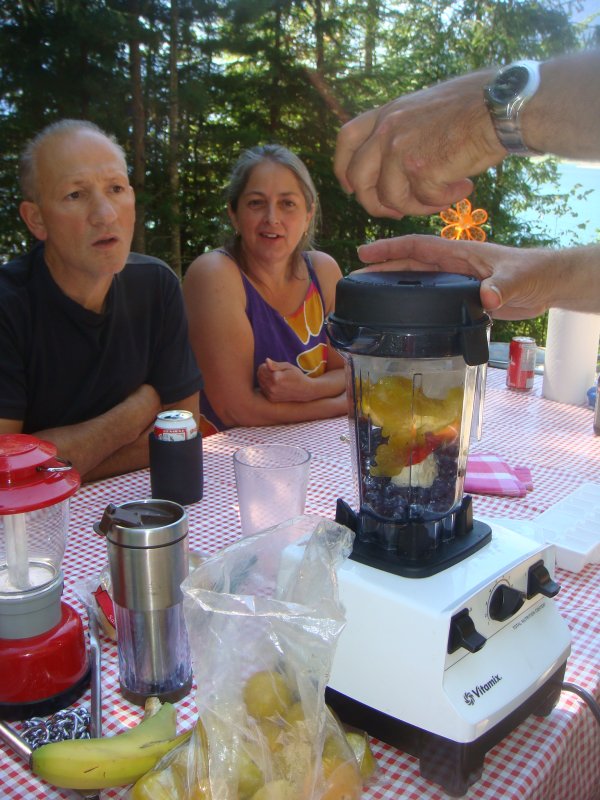 Being a veggie lover, I've been doing garden cocktails with tomatoes, peppers, onions, celery and other healthy vegetables.
So much for buying V8 anymore. No more $3.99 per bottle and having to send the plastic jug out for recycling. I LOVE that.
Want a clamato cocktail or a Bloody Mary? Just add clams, Worcestershire sauce and a little Tabasco.
You can make a HOT soup in under 10 minutes. The more you blend, the hotter the mix. If you want chunky bits, just reserve some vegetables to add at low speed during the last 30 seconds or so.
This is the mixer that is used by Commercial establishments… and the consumer reviews are incredible. The Vitamix will last for 10 years or better and you will save thousands of bucks in food.
Here's the Amazon review:
With its commercial-grade 2-plus peak horsepower motor, this versatile countertop appliance works great for blending, pureeing, chopping, mixing, and more. The blender features a laser-cut stainless-steel blade that can crush through ice in seconds, a patented tamper for processing thick mixtures, and variable speed control for processing at just the right speed for the task at hand. Its user-friendly controls also include a convenient "pulse" option and three pre-programmed settings for Smoothies, Hot Soups, and Frozen Desserts for consistent, foolproof results every time. In addition, the blender's oversized 64-ounce BPA-free jar creates a powerful vortex that forces ingredients up from the blade and back down through the center to ensure thorough blending. Other highlights include a generous jar handle, a spill-proof vented lid with a removable insert, a fingerprint-resistant brushed stainless-steel finish, and nonslip feet for stability during operation. Make everything from delicious homemade dips, pureed soups, creamy sauces, and appetizers to dressings, desserts, beverages, fruit smoothies, and more–the options are endless. A recipe book with 100 gourmet recipes and an instructional "Getting Started" cooking-class video come included. The blender measures 8-4/5 by 7-1/5 by 20 inches.
Seriously, I can't say enough good about the Vitamix… can't wait to grind the wheat berries and start baking my own bread again.
Woohoo!
Vitamix 1710 Professional Series 500 Variable-Speed Countertop Blender with 2+ HP Motor and 64-Ounce Jar