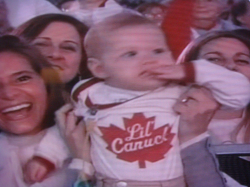 Although I was much too busy working on my new affiliate blogger training program over the past 17 days to take in much of the Olympics, I did watch enough coverage (opening ceremonies, skating, snowboard cross, grand slaloms, hockey games and the closing ceremonies) to not only be amazed by the stunning athletic feats but to be somewhat shocked by the number of flag-waving Canadians.
Whoa! That is so unlike us.
Yes, we love our country and its people – deeply.
But goodness knows that the best we can usually muster in times of national success is "YAY Canada!" immediately followed by an "I'm Sorry" for having been so forward as to proclaim our pride out loud – lest we offend the sensibilities of those who finished 300's of a second later (and are still winners in every sense of the word).
And although I'm happy that more of my country folks will be sporting the red & white more proudly now, what really made the whole Vancouver Olympic event truly Canadian for me was the truly "Canadian" portion of show during the closing ceremonies.
They started by mocking the awkward malfunction that delayed the lighting of the indoor cauldron at the opening ceremony. A mime dressed as Mr. Fixit went through the motions of pulling the fourth arm of the massive cauldron from the floor of BC Place so that Catriona Le May Doa finally got her chance a chance to set the mechanical arm ablaze.
Now picture Michael Buble in a Mountie uniform with a typically Canadian backdrop of a log cabin and the Rocky Mountains singing "The Maple Leaf Forever".
The scene then opened to typically Canadian clichés — giant inflated beavers, flying moose, Mounties, table-hockey players, Voyageur canoes pulled by lumberjacks, and dancing maple leaves.
It was SO Canadian – so self-deprecating and funny that I almost needed Pampers.
I dunno, maybe you have to be Canadian to understand it, but THAT's what I love best about this country's people — always on the ready to make fun of ourselves, even on the international stage.
It's a beautiful thing.
Having said that, I say "YAY Canada" with no apology.