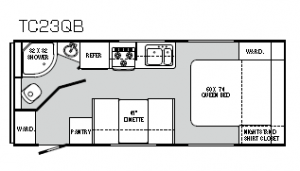 Yes, it's true. After much researching for best prices and honestly hoping to purchase our new RV in Canada, we ended up buying a Trail Cruiser 23QB by R-Vision through RVWholesalers.com.
We saved 6 grand in the process and for anyone who might think that we won't get warranty service in Canada – we purchased the extended warranty plan which is good anywhere and the plan gets fully refunded if we don't use it in 2 years.
The folks at RVWholesalers.com have been absolutely awesome – always willing to answer questions and usually getting back to us by phone, even when we've submitted a question by email.
We're getting really excited about it at this point. We're heading to Ohio to pick it up soon, followed by a trip to Ontario to visit with family there as well as my cousins who will by flying in from Holland around the same time. Should be an absolute blast, especially with the new dog.
P.S. Thanks to those who helped pick the interior colors… I was completely baffled. 🙂