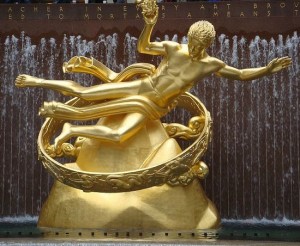 In between AdTech New York conference activities over the last couple of days, Ed and I have been bootin' around Manhattan seeing a few of the sights and soaking up the ambience.
Rather than going to the top of the Empire State Building, we headed for the Top of the Rock (Rockefeller Center) on Tuesday morning where the uppermost deck affords an almost 360 degree view of Ne York City. After a rainy start to the day, the clouds opened up on our arrival and the views were spectacular.
We then made our way down to Bryant Park where despite the above freezing temperatures, a large number of people were skating on the 'The Pond'. The ice looked a little slick to me, and the bright blue rental skates would have clashed with my outfit — OK, I'm the world's worst skater — so we passed on skating and bought running shoes instead.
Ed picked up a pair of New Balance – MW811's the same brand and style that he's been wearing for years and also worn by the U.S. Postal carriers. The big difference being that he bought them here for $84.99 whereas he'll pay $129.99 for them at home in Canada.
After dark we headed down to Times Square where at least 50 New York Police Department cars were lined up along the streets, lights ablazing. Many of the tourists were asking 'what's going on?… has there been an accident?' but it was apparently just a show of the colors, as at the appointed minute, they sounded their sirens and all took off.
Having heard that New York pizza is the best there is, we just had to see for ourselves and went to John's, a refurbished cathedral on 44th. Because we couldn't order our standard medium pepperoni, mushroom and bacon, we substitued olives for the bacon and well, we think that Il Paesano pizza in Toronto still makes the world's best pizza.
On the other hand, Baluchi's Indian restaurant on West 56th makes some of the tastiest pakora we've ever eaten and unlike most of the Indian restaurants we've been in, Baluchi's decor was absolutely lovely, with carved wooden wall screens, an array of crystal chandeliers and colorful and tastefully draped fabric in just the right places.
Being from Toronto, which has the reputation of being one of the cleaniest citiest anywhere, I'm particularly impressed with the cleanliness of New York's streets, which I think are actually much cleaner than Toronto's. There are street cleaners everywhere, something Toronto would do well to emulate if it wants to deserve it's 'cleanest city' reputation.
Last but not least, walking in Manhattan is a pleasure. I actually feel much safer walking here than I do in large Canadian cities (especially Toronto) where the drivers tend to be much more aggressive. In contrast, New York drivers are more respectful and courteous, actually stopping short of the white line (as they should) and not racing through yellow and red lights. What a concept!