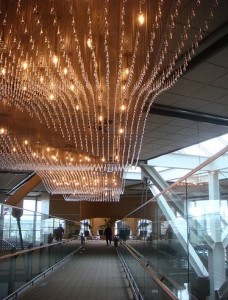 After being stuck for 2 days in Vancouver, I'm feeling a little like Tom Hank's character, Victor Navorski, in the movie "The Terminal".
Unlike Viktor, I CAN get out, just not by air, as all the flights into the Okanagan have been cancelled due to fog.
And unlike Viktor, I'm fortunate enough to be able to stay at the Fairmont Vancouver Airport hotel where the rooms are lovely, the food is excellent and if you're a Fairmont President's Club member, the Internet connection is free.
It's also fast, unlike my experience with the Lodgenet connection that I didn't have during my recent stay at the Rio in Las Vegas during the Affiliate Summit conference.
Better yet, Starbuck's and several restaurants are available within steps of the hotel lobby, so you're not forced to pay $25.00 for a continental breakfast or $8.00 for a bottle of water.
And, if you've run out of clothes (like I did) you can buy Roots or Winter Olympics logo attire to wear for a couple of days until you get home – OR, until you succumb to using the hotel's laundry service.
Furthermore, the Vancouver airport is truly one of the most architecturally attractive airports in the world with abundant glass, soaring ceilings, stained glass windows and numerous sculptural artifacts… although I keep wanting to report those unattended stone suitcases in the U.S. terminal to security. 🙂
All in all, if you've got to be stuck at an airport for a few days, Vancouver airport is the place to be.