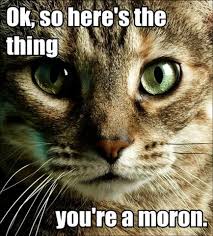 Here is the list of members Arizona House Republican Caucus who voted for Bill 1062 – a controversial bill that would allow business owners, as long as they assert their religious beliefs, to deny service to gay and lesbian customers.
PLEASE Do NOT vote for these MORONS again… They are dinosaurs who want to take Arizonans back in time.
REMEMBER their names….
Adam Kwasman — (District 11) Casa Grande, Eloy, Marana, Maricopa, Oro Valley, Tucson
Andy Tobin — Speaker of the House (District 1) Carefree, Cave Creek, Chino Valley, Dewey-Humboldt, Peoria, Phoenix, Prescott, Prescott Valley, Wickenburg
Bob Robson — (District 18) Chandler, Guadalupe, Mesa, Phoenix, Tempe
Bob Thorpe — (District 6) Camp Verde, Clarkdale, Cottonwood, Flagstaff, Holbrook, Jerome, Payson, Sedona, Snowflake, Star Valley, Taylor, Tusayan, Williams
Brenda Barton — (District 6) Camp Verde, Clarkdale, Cottonwood, Flagstaff, Holbrook, Jerome, Payson, Sedona, Snowflake, Star Valley, Taylor, Tusayan, Williams
Carl Seel — (District 20) Glendale, Phoenix
Darin Mitchell — (District 13) Buckeye, El Mirage, Glendale, Goodyear, Litchfield Park, Surprise, Wellton, Wickenburg, Yuma
David Gowan — Majority Leader (District 14) Benson, Bisbee, Clifton, Douglas, Duncan, Huachuca City, Pima, Stafford, Sierra Vista, Thatcher, Tombstone, Tucson, Willcox
David Livingston — (District 22) Glendale, Peoria, Surprise
David Stevens — (District 14) Benson, Bisbee, Clifton, Douglas, Duncan, Huachuca City, Pima, Stafford, Sierra Vista, Thatcher, Tombstone, Tucson, Willcox
Debbie Lesko — (District 21) El Mirage, Peoria, Surprise, Youngtown
Doris Goodale — (District 5) Bullhead City, Colorado City, Kingman, Lake Havasu City, Parker, Quartzsite
Doug Coleman — (District 16) Apache Junction, Mesa, Queen Creek
Eddie Farnsworth — (District 12) Chandler, Gilbert, Queen Creek
Ethan Orr — (District 9) Marana, Oro Valley, Tucson
Frank Pratt — (District 8) Casa Grande, Coolidge, Eloy, Florence, Globe, Hayden, Kearny, Mammoth, Miami, Superior, Winkelman
Heather Carter — (District 15) Cave Creek, Phoenix
J.D. Mesnard — (District 17) Chandler, Gilbert
Jeff Dial — (District 18) Chandler, Guadalupe, Mesa, Phoenix, Tempe
John Allen — (District 15) Cave Creek, Phoenix
John Kavanagh — (District 23) Fountain Hills, Scottsdale
Justin Olson — (District 25) Mesa
Justin Pierce — (District 25) Mesa
Karen Fann — (District 1 Carefree, Cave Creek, Chino Valley, Dewey-Humboldt, Peoria, Phoenix, Prescott, Prescott Valley, Wickenburg
Kate Brophy McGee — (District 28) Paradise Valley, Phoenix, Scottsdale
Kelly Townsend — (District 16) Apache Junction, Mesa, Queen Creek
Michelle Ugenti — (District 23) Fountain Hills, Scottsdale
Paul Boyer — (District 20) Glendale, Phoenix
Phil Lovas — (District 22) Glendale, Peoria, Surprise
Rick Gray — Majority Whip (District 21) El Mirage, Peoria, Surprise, Youngtown
Sonny Borrelli — (District 5) Bullhead City, Colorado City, Kingman, Lake Havasu City, Parker, Quartzsite
Steve Montenegro — (District 13) Buckeye, El Mirage, Glendale, Goodyear, Litchfield Park, Surprise, Wellton, Wickenburg, Yuma
Steve Smith — (District 11) Casa Grande, Eloy, Marana, Maricopa, Oro Valley, Tucson
T.J. Shope — (District 8) Casa Grande, Coolidge, Eloy, Florence, Globe, Hayden, Kearny, Mammoth, Miami, Superior, Winkelman
Tom Forese — (District 17) Chandler, Gilbert
Warren Petersen — (District 12) Chandler, Gilbert, Queen Creek