So, the objective was to cross the Rockies southbound before a big winter snow storm hit — and in that, we succeeded.
But we dogged it through Montana and Wyoming, taking 2 night stops in Missoula, Billings and Cheyenne in order to spend a day touring each of those cities.
Likewise, we wanted to spend some time in Denver.
That's where the problem started. We booked 2 nights in a campground 40 miles east of Denver, in Strasburg, Colorado, to stage our Denver visit.
Watching the weather news, we knew we could be in for some very cold weather and perhaps a little snow, as Brutus was supposed to roar across the Rockies that night. Working on the fly, I cancelled the 2nd night and hoped we could escape eastbound and forfeit Denver, rather than deal with the storm.
However, by 8PM the snow was swirling and the temperature had dropped to below freezing.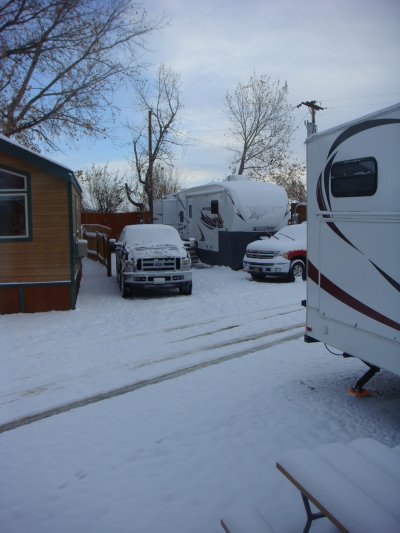 By morning, there was 5 inches of the white stuff on the ground and the temperature was a balmy 18 degrees Fahrenheit.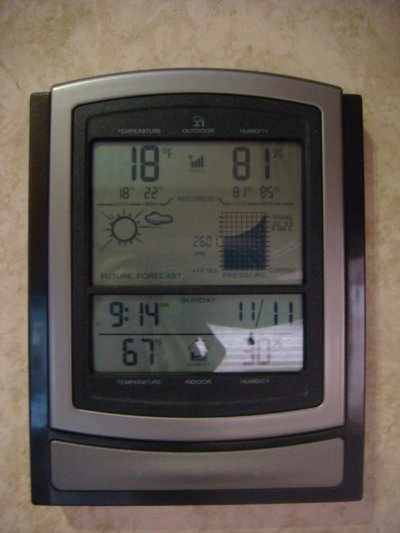 Despite setting the taps to drip all night, turning a light on in the RV 'basement' where the water pipes are located and using propane to fuel the furnace which blows into the basement rather than our electric heaters – the water pipes were frozen solid in the morning.
Not only that, but the slide rooves were covered with snow and Ed hadn't packed our ladder.
We sat there thinking we'd have to re-book the 2nd night in that dismal little campground and still miss seeing Denver if we had to deal with pipe breakages.
But we set to work and by placing Jasper's toy box (which I use as a step stool inside the trailer) atop a picnic table, Ed managed to remove the snow from the slides.
We also placed one of the electric heaters in the crawl space and left it to warm up the water pipes for awhile.
Just before 11AM, check-out time, we opted to bug out and head into Cherry Hill State Park in Denver which was forecast to be warmer than the prairie farther east.
The roads enroute were decent and we lucked out by getting probably the nicest spot in the park.
By the time we got hooked up, the temperature was about 37F and the water pipes had thawed out and were running again.
Thank goodness!!
Well, thank goodness just for a bit – the pipes froze again our first night in Denver, but at least we were in a really pretty spot.