Back in early July 2019, I was traveling to a health facility in Thailand, which required a number of medical tests at the hospital in Trat prior to my arrival at the facility in Ko Chang.
After the tests were complete, I had a consultation with a doctor at the hospital, who informed me that they'd spotted a lesion on my left lung, which he told me was most likely cancer, barring the existence of tuberculosis, the latter of which was unlikely as I'd only just arrived in Thailand and hadn't been to any other country recently where TB was prevalent.
In a nano-second, my thoughts went from 'Cancer? I'm gonna die of before I'm 60″, "I'll never survive chemo" (I was terrified of chemo based on the number of friends and family who'd received it, gotten really sick and eventually died anyway), "who the hell will look after Ed and Jasper?" and a whole range of other negative thoughts about how my life on this planet would ultimately conclude in regret, pain, and fear due to cancer.
There it was, as a long-time smoker, my worst fears were being realized and I burst into tears.
The doctor responded by saying, "Be a good Thai. Do NOT cry. Lung cancer treatments are very good now. You can look at having another 10, 20 years, or even more."
Huh?
Lung cancer isn't a death sentence? When did THAT happen? WOW!!
I took his words in and clung to them.
So, instead of rushing home to Canada, I continued on to the health facility where I spent soaked up every bit of joy from the experience there – participating in the health facility's regimen, making friends, eating amazing food all day/every day, kayaking in Salakkok Bay, walking through the mangrove forest, and swimming in the Gulf of Thailand.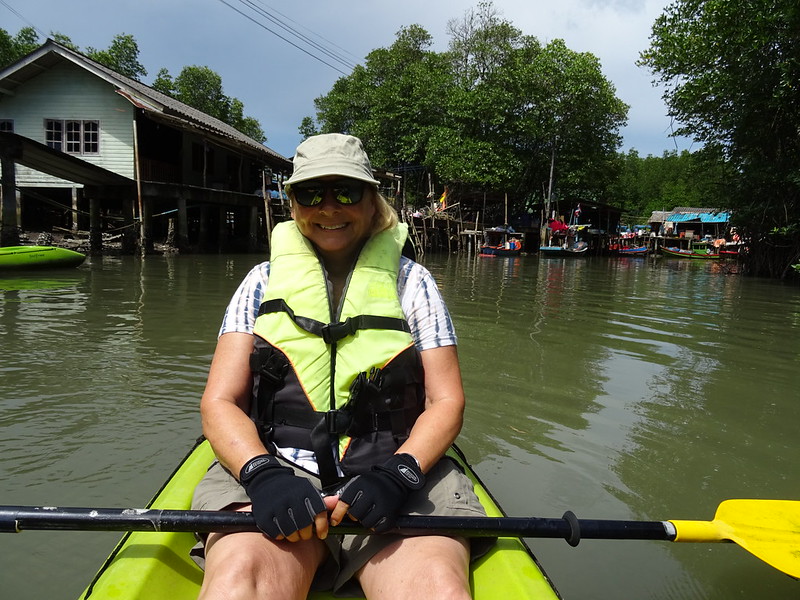 Two weeks later, I finally booked a CT-scan at the hospital in Trat with the hope of receiving more conclusive, less traumatizing test results.
Unfortunately, the CT-scan confirmed what they found on the chest x-ray and the doctor with whom I met recommended that I get a PET-scan which normally definitively shows cancer, except in Thailand where due to the number of false positives they show from TB, but to get one done at home in Canada.
Righto.
As soon as I arrived back at the facility on Ko Chang, I booked flights back to Canada, AFTER booking a 2-night stay in Bangkok.
Heck, I wasn't going to waste a perfectly good trip to Thailand, not to mention the LONG trip to travel there, without spending some time in Bangkok before I headed home to die.
Cheers,