Don't let the pretty picture fool you, like the view did us. We camped at the EZ RV Park outside Oliver, B.C. from late May until late July 2015 and I am SO happy to be outta there.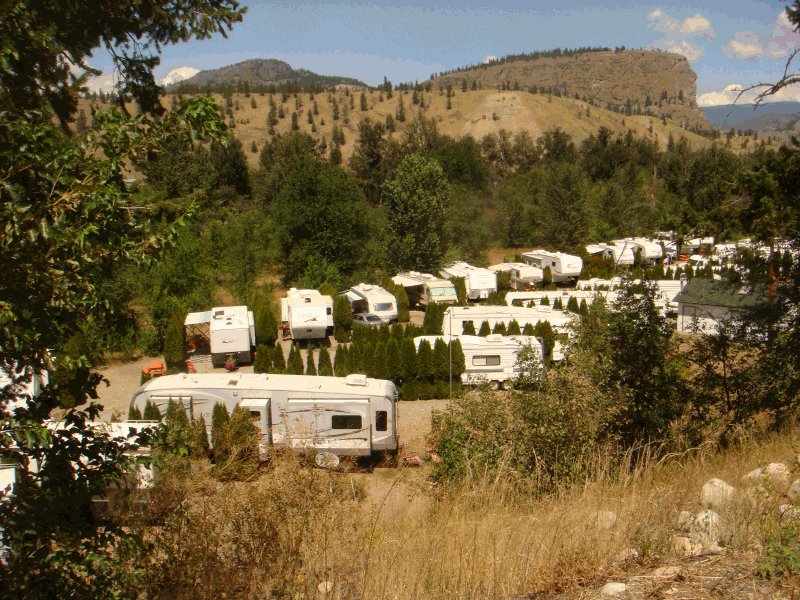 OK, it wasn't ALL bad. Here are some of the Pros:

Pleasant staff
Friendly community of campers – Fairly even mix between self-employed recently-transplanted people, workers building the new prison in Oliver, and snowbirds.
Uber-clean washrooms and laundry room (most of the time)
Price – $450.00 per month (plus tax) includes electricity, Wi-Fi, Cable
Green space access – Path from the west end of the campground runs down to the river. Nice little play and walking area for the dog.
Quiet at night – The prison workers start work at 6AM and the snowbirds are early risers too, so almost everyone hits the hay pretty early.
Good Wi-fi – Eastlink installed a 2nd antenna while we were there, improving access to the Internet.
Oliver Hike and Bike Trail – The trail starts across Highway 97 on the west side of the bridge. There's a parking lot located just east of the bridge. I drove up to the parking lot a few times rather than risk life and limb crossing the highway.
Jampee's Thai Kitchen – Saving the best for last… Jampee's is at the west end of the EZ Gas station her food is absolutely delicious!
Sadly, the Cons greatly outweigh the Pros.
Smelly Septic Field – Although it wasn't always strong-smelling, rarely was there a time when it didn't smell. If you don't have the benefit of going nose-blind very quickly, EZ Camp will definitely not be a happy place for you. This was the view out our back window — at least the septic field kept that area of the grass green.
No Dedicated Washroom / Laundry Access – You have to walk directly through someone's campsite to get to the facilities as whoever designed this disaster didn't bother to create a pathway between the sites. DUH!
Cedar Hedges between Sites – Although green is beautiful, whoever decided to plant cedar hedges between the sites obviously was NOT thinking clearly.

Cedar hedges GROW – Prior to booking, we measured the site at 18′ wide. What we didn't realize at the time was that the site separators (evergreen trees) were not parallel and the end of the site was only 15′ wide. With all 4 slides out – there was NO room on either side of the RV to move to the back of the trailer within the site itself.

See the space between the trees and our slide? That wasn't there when we first pulled in. We had to trim back the hedge simply to access the hydro stand and then hack away a bunch of branches next to the stand to be able to open the plug cover.

Other than us and the deer, these cedars have seen no other maintenance.

Cedars require water – not an abundant commodity in the Okanagan Valley at any time, and a precious commodity too valuable to waste on cedars trees during a drought.
Wasps – Every hedge seemed to house a nest.

Sites too Short – Cars and trucks parked in front of their rigs extend into the roadway, making it narrow and impossible for cars and other rigs to pass at times. We had to ask and then wait for people to move their cars on numerous occasions.

The trailer parked opposite us stuck out so far that exit from our site with our 38-foot rig (54′ when hauling) was impossible until it was moved to a longer spot.

We were somewhat appalled that the EZ Campground staff were given 2 weeks notice of our departure, but they elected not to inform the owner of the blocking trailer until the night before we left, so he had to up and move after a long day at work, rather than on a weekend when it would have been so much more convenient for him.

Turnaround Blocked – Due to insufficient parking space at the sites, folks parked in the turnaround made it extremely difficult for larger rigs to use the area. We heard more than a few folks swear during the effort.
Limited Recycling – The only recycling bin allows only cardboard, which leads to…
Littered Sites – We kept a bag for cans and plastic bottles tucked away under our RV, but a number of campers just leave them scattered about their sites, along with their cigarette butts, discarded food, and food wrappers.
Crackhead Thievery – Along with a number of bags of recycling material, Angel the well-known crackhead stole precious items from a few campers. Granted, use of locks is strongly advised — even in Oliver. Here is the eviction notice Angel's room-mate posted on top of a pile of her belongings. She can't spell, but she did say 'sorry'. How Canadian. 🙂

Over-Priced Propane – Propane in town (Oliver) costs 75 cents a gallon. At EZ Gas… $1.25!!
NO Rules – Most campgrounds give you a sheet of rules on arrival. Not EZ Camp. With NO rules, some folks seem to think it is OK to speed along the campground's gravel roadway, raising dust and endangering lives.
Trashy RV's – Good private campgrounds restrict the types of RV's allowed to stay, eg. nothing more than 10 years old unless it is in great shape. Not EZ Camp. RV's there run the gamut from brand-new to rigs that are so old and decrepit that they need to be taped and tarped to avoid exposure to the outside elements.

Could explain why campers frequently drove through the campground surveying available spots, then drove right back out again in a hurry.

Laundry Facilities – Using a washing machine costs $2 and the dryers are $3, although it always cost me $6 to get a moderate load of laundry dry. Ed suspects that one of the heating elements has been disabled in the dryers. By result, many campers simply hung laundry lines outside their rigs – an activity not allowed by most campgrounds.
All that said, I really enjoyed hanging with the people we met there — most of whom agree that they won't return to the EZ Campground next summer or once their work is finished in Oliver.
You can see more of my pictures of the EZ RV Park on Flickr.