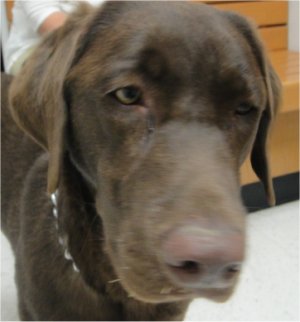 Ed and I were just returning from an hour-long hike around the campground at Tucson Mountain Park when we encountered a narrow wash thick with cacti and mesquite trees.
I would have gladly retraced our steps to take a less prickly route back – but 'never-late-for-lunch-Ed' persisted on taking the shortcut.
I was watching my footing carefully as we descended down the rocky bank and when I looked up I saw that Jasper's nose was little covered in cactus nodules.
To my horror, he started lashing at them with his tongue. Those he reached, he gulped down.
I whipped off my t-shirt (yes, I was wearing a camisole) and tore the remaining nodules from his nose as fast as I could.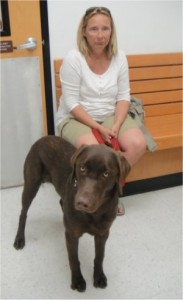 We got back to the RV and I immediately Googled "dog eats cactus" and other variations of the phrase. The results weren't optimistic with 'death' being a prevalent word in the search results returned.
I then Googled the nearest vet and we rushed Jasper in to have him treated.
The vet put him under and told us that she not only removed needles from his hose and lips but from both sides of his tongue and the back of his throat.
POOR baby!
The rest of that afternoon and all that night was pretty awful with Jasper groggy from the anesthetic and crying / whining almost continuously.
I don't think I got a wink of sleep until about 5AM.
About an hour later, Jasper woke me up when he puked on my bed.
Since then, he's been right as rain – AND staying clear of cacti. 🙂