It was just a stroke of luck that I happened to check a map – a real paper map – prior to our departure from Flagstaff for Moab.
I say 'real map', because with his handy dandy GPS unit, Ed has become even more map averse than ever. He just plugs in destination addresses and follows the instructions given to him by the sexy female voice.
Wish he felt the same when hearing my voice simple requests. 🙂
Anyway, if girly GPS had her way, we would have followed Highways 160 and 191 up to Moab, and would have missed out on a spectacular trip through Monument Valley.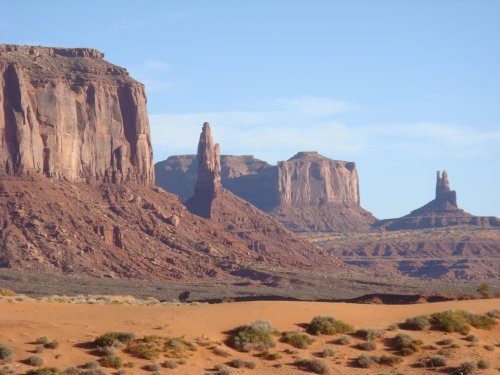 Basically, the drive is spectacular from the turn-off point at Kayenta, Arizona all the way up to Bluff in Utah.
But we didn't just do the drive – we stayed at Goulding's Campground for 2 nights so that we could see the Monument Valley Navajo Tribal Park in every light – morning, afternoon and evening.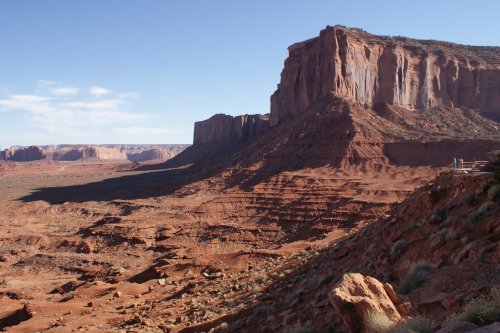 Arriving in the late afternoon, we paid the $5.00 per person access fee and headed up to The View Hotel to see and photograph and classic East and West Mitten Bluffs view. You've seen it in movies, but it's WAY better in person.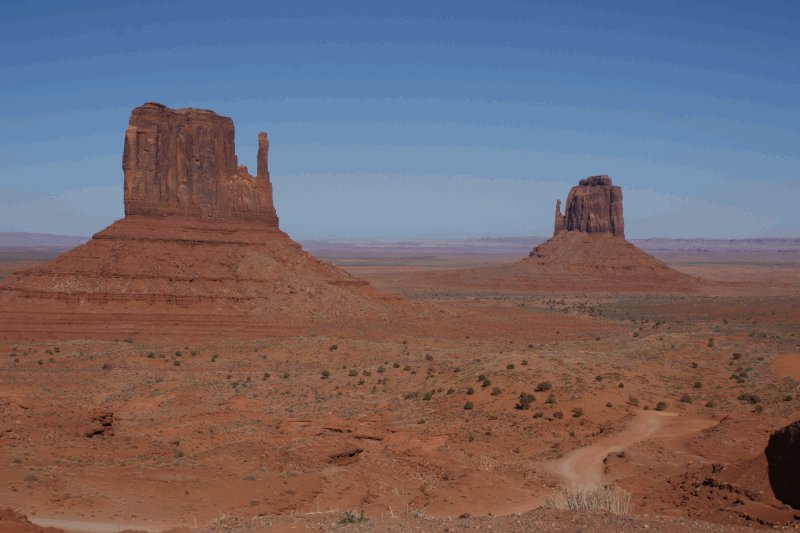 Early the next morning, we drove the 17-mile (27 km) circle route through the park, which took a good 3 hours to complete after stopping at each and every viewpoint. The road is dirt and pretty lumpy in spots, so there's another good reason to give yourself a lot of time to complete the drive.
There are a number of guided tours available, that take place mostly in open-air Jeeps and trucks. These tours take you to where the general public is not allowed to travel in the park and make stops that include Navajo culture lectures and demonstrations.
Personally, I wouldn't want to do the open air tour as the road is SO dusty… not to mention that it could be really hot or cold, depending on when you are there. On the other hand, you probably don't want to do that road in your Porsche.
One of the advantages to taking the tour however, is that the guides will set up classic scenes for the photography buffs. Just as we got into the truck at one of the viewpoints, I noticed a Navajo fellow on his Indian pony head out to a rocky outcrop which formed the foreground for an outstanding picture. I simply lifted my camera to my face from within the truck and a guy came running over to the truck waving his arms in the 'no, no, no!' fashion. When I opened the window, I was told this setup was for guided tour visitors only.
OK.
If I lived closer by, I'd sign up for New Moon (no moon), Full Moon and snowy tours just for the opportunity to take pictures of these incredible monoliths.
At many of the viewpoints, the resident Navajo people have set up stands from which they sell mostly jewelry. If you like Navajo jewelry, this is definitely the place to get it… as it is CHEAP compared with that sold through gift stores in the area.
Goulding's campground was a great place to stay, replete with all the amenities. My only complaint was that the staff chose to block our view on the second day by putting a massive motorhome right beside us, rather than in any of the other 50 spots that were available. Duh. So, we moved. 🙂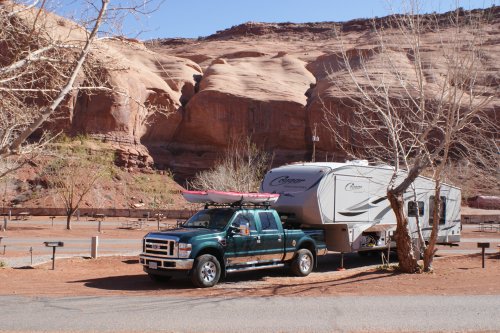 If I stayed in the area again, I'd elect to boondock in the Monument Valley Navajo Tribal Park campground, which overlooks the East and West Mitten Bluffs — and from where no one would block your view. 🙂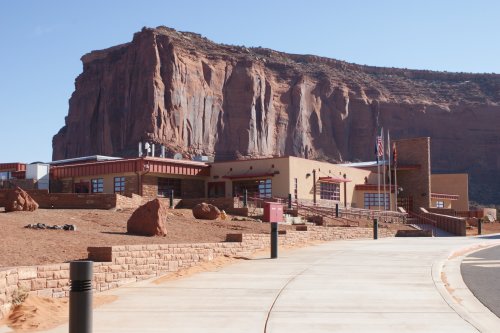 You can see the other pics from our visit to Monument Valley.